I've been making these muffins since I was about 9 years old. NINE. Does that tell you how good this recipe is? It has stood the test of time.
I first found the recipe when I went to the hair salon with my mom. She was spending hours underneath that dome shaped heater thing (still to this day don't know what it's called) with tin foil covering her head and I honestly thought all the women looked like aliens. I flipped through every magazine in the place trying to entertain myself. That's when I found this gem. I ran it over to my mom and asked if we could make it that weekend- and being the amazing mom that she is, she said of course and sneakily ripped it out of the magazine and put it in her purse. (PS don't tell my mom you know she's not a natural blonde ;)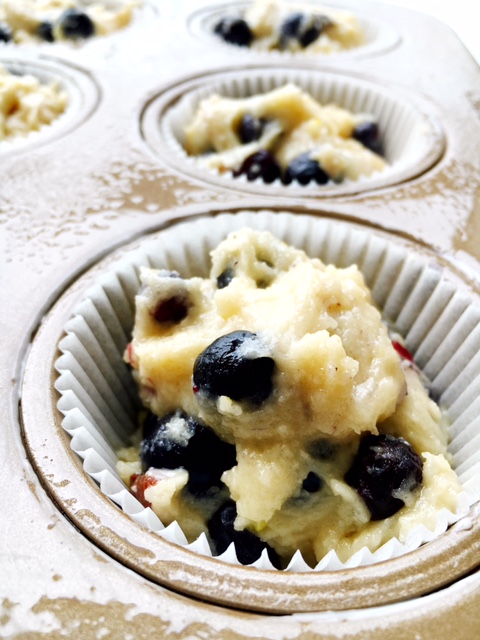 The original recipe called for muffin tops, and I was nearly heartbroken when I found out we didn't have a muffin top pan. My mom had (and still does have) every. single. kitchen appliance known to man. But no muffin top pan in sight. So we went rogue and did the exact opposite- we made jumbo blueberry muffins. 6 fat, buttery, melt-in-your-mouth, fantastic blueberry muffins. They've been a family favorite ever since.
This was really my first solo baking mission and probably why it's so near and dear to my heart. Before this, I wasn't allowed to use the stove/oven without supervision and cooked eggs in the microwave. I would bring them to my parents in bed, and being as nice as possible, they'd take a bite, tell me how wonderful they were, and promptly flush them down the toilet the second I left their bedroom. They were about as thrilled as I was to discover my talents ranged farther than microwave eggs.
These muffins are a perfect weekend treat. I LOVE them when they're right out of the oven, but they are just as good at room temperature (and the perfect pack-and-go breakfast). You can also freeze them for up to 3 months, which is fab if you find yourself in need of a muffin with zero desire to bake (aka the morning after one glass too many ;) ). I hope these babies bring as many good memories to your family as they have to mine!
Blueberry Muffins
For the Batter:
3/4 stick (6 Tbsp.) unsalted butter
1/3 cup whole milk
1 whole large egg
1 large yolk
3/4 tsp vanilla
1 1/2 cups King Arthur all purpose flour
3/4 cup sugar
1 1/2 tsp. Clabber Girl baking powder
3/4 tsp. salt
2 cups fresh blueberries (12 oz.)
*This is a thick batter- don't fret! You're on the right track.*
For the topping:
3 Tbsp. cold unsalted butter, cut into bits
1/2 cup King Arthur all purpose flour
3 1/2 Tbsp. sugar
Directions:
Preheat oven to 375° F
Generously butter muffin pans (you can use a regular 12 muffin tin or a jumbo 6 muffin tin)
Melt butter in a small saucepan over moderately low heat. Once melted, remove from heat.
Whisk in milk first, then the whole egg, yolk and vanilla until well combined.
In a large bowl, whisk together flour, sugar, baking powder, and salt.
Add milk mixture and stir until just combined.
Fold in blueberries gently but thoroughly.
For the topping:
Rub together all topping ingredients in a bowl with your fingertips until crumbly.
Sprinkle evenly over batter in muffin tin.
Bake until golden and crisp, about 18-20 minutes. (Tip: Diagonally insert a wooden toothpick into the center of the muffin- if it comes out clean, you're good to go!)
Cool in pans on a rack for 15 minutes.
Run a knife around the edge of each muffin and carefully remove from the tin.
Serve warm or at room temperature.
P.S. if you want to be really bad, but really good- slather some buttah on a cut muffin when it's fresh out of the oven. You will swoon.